Greg
HEAD OF TECHNOLOGY
7+ years building technology products for startups and large companies. Strong background in software development and product management. Previously worked at Carbon 5, Intuit, and three LA-based startups. Specialties include Rails, JS sprinkles, Angular, Node, React, Ember, and Ionic.

Worked on projects for Pacific Life, LiveNation, and AutoDesk . Former Back-End Web Development Instructor at General Assembly.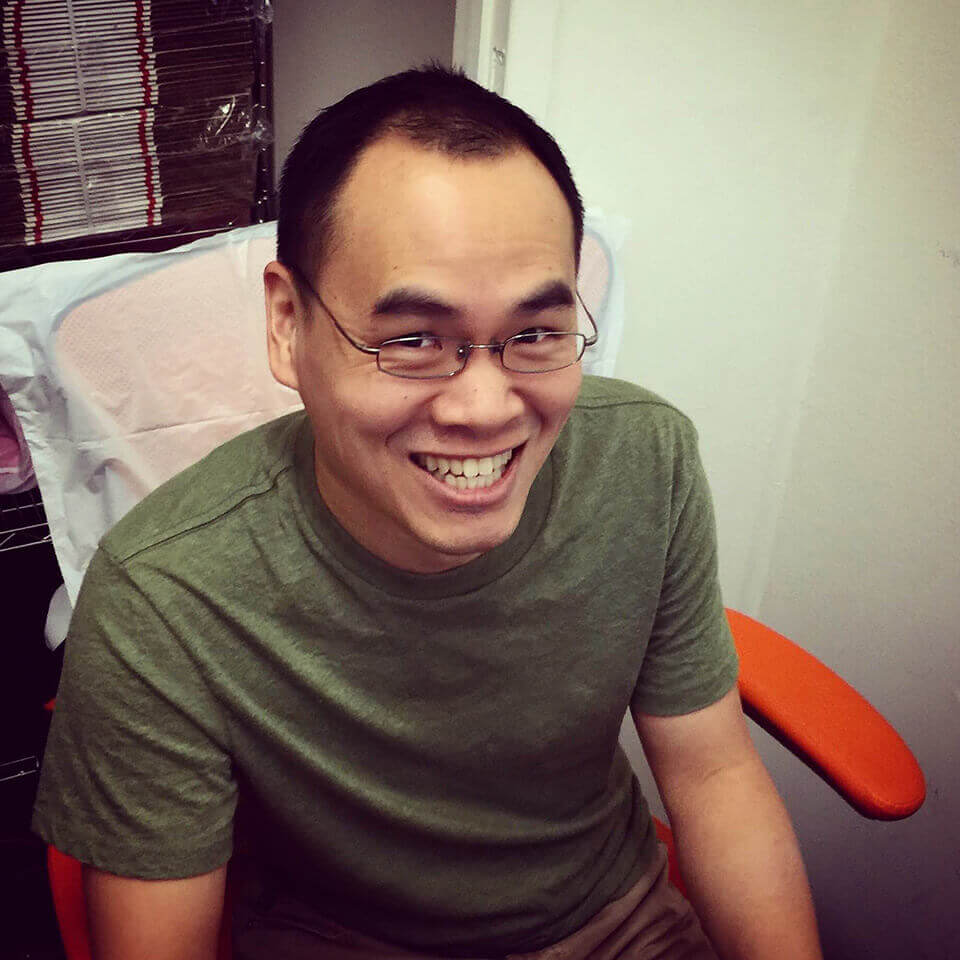 Ed
HEAD OF DATA SCIENCE
Data scientist with 15 years experience using statistics and machine learning to analyze datasets in physics, finance, and online petitions. Interested in opportunities involving machine learning, deep learning, and distributed computing as a means of processing and analyzing large datasets.

A.B. Magna Cum Laude in Chemistry & Physics from Harvard College and Ph.D from Cal Tech in Experimental High Energy Particle Physics
Devin
LEAD ARCHITECT
15 years development experience spending both work & free time developing dynamic, UI rich websites & apps for a wide variety of applications & businesses.

Worked on projects for Walgreens, Toyota, Tokidoki, Luma Pictures, Red Cross, Get Ur Good On (Miley Cyrus' Charity), Flickr (owned by Yahoo). Creator of Tipsy PHP Framework, OS Gallery, OS File Manager, and many other fun things.
Amélie
PRODUCT DESIGNER & MANAGER
7+ years of experience in product management and design, building products for startups pre- and post-acquisition as well as larger companies (Amazon, Hallmark, etc). Past work includes SaaS, consumer web, mobile apps, and data products, as a product and program manager, product strategy consultant, and UX/UI designer.

Former Amazon PM & designer, taught math for 10 years, now passionate about transmitting product management, user-centered design, and agile best practices.
Judd
CEO
Built and scaled multiple businesses over the last 8 years. Started one-click food ordering site in senior year of Yale that sold over $300K of a single sandwich. Launched Crunchbutton, an on-demand food ordering business, raised $2.5M seed round, grew 30% MoM till early 2016 to $3M in annual food sales, managed product and growth.
Darin
SENIOR DATA SCIENTIST
Developed a predictive model for student dropout risk using machine learning as senior data scientist at Bravi Software. Fluent in Agile principles, specializing in mathematical modeling, statistical analysis, and feature extraction from large data sets. Programming experience in Python, C#, Matlab, and Java.

PhD in Physics (quantum computing), Stanford. BA in Physics, Princeton. First to initialize and optically detect the spin of a single electron trapped within a F:ZnSe semiconductor system
Daniel
FULLSTACK ENGINEER
15 years experience with several languages, databases, apis and frameworks like: Javascript, AngularJS, jQuery, NodeJS, Ionic, CSS, PHP, ASP, CodeIgniter, Laravel, YII, MySQL, MongoDB, SQL Server, JSP, Python, Objective-C, Facebook, Twitter, and Youtube.

Creator of lots of fun side projects, including a tool for Instagram called Instafriends, which has about 1 mi visits a month (150K uniques)
Bruno
FULLSTACK ENGINEER
Full-stack developer with 10+ years experience. Javascript expert with deep experience in Node, Angular, React, SQL, Mongo, and C#. Creator of Google Chrome extension with over 100K users, Stack Overflow 50k+ reputation, 50+ gold badges, Javascript gold tag badge, 9.7 million people reached.

Worked on projects for Santander Bank, Cambridge English, and Portal Sebrae
Gabriel
FULLSTACK ENGINEER
Senior full-stack developer with 5+ years focused only in modern web technologies such as React/Redux, Angular, Node.js, CSS3, HTML5, Docker, and MongoDB.

Worked 5 years as a researcher on digital video compression, artificial intelligence (sentiment analysis) and high performance algorithms.
Melanie
FULLSTACK ENGINEER
Full-stack developer with 5+ years experience building products for early stage startups. Former CTO at To The Tens. Currently working on projects in deep learning and data analysis with self-driving cars and cryptocurrency. Experience includes: Solidity, NodeJS, Angular, Ionic, Rails, Python, TensorFlow, Keras, and more.

B.S. from Yale University, focused on statistical analysis of ecological systems
Maor
DATA SCIENTIST
Specialist in deep learning, machine learning, and traditional computer vision. Over 8 years software development and data science experience. Previously worked at Intel, Cisco, and various startups.Specialties include Python, Tensorflow, Theano, Java, C#.

Masters in Electrical Engineering (GPA 4.0) in the fields of deep learning, computer vision and medical imaging from McGill University. Double B.Sc. in Electrical Engineering and Physics Magna Cum Laude from Tel-Aviv University.
Wesley
PRODUCT DESIGNER & MANAGER
Over 6 years experience designing, building, and helping ship digital applications. Former YC founder and startup guy through and through.

As someone comfortable moving between both design and development he approaches product management with a unique, well-informed approach. Work experience includes several startups ranging from mental health to mobile consumer education, as well as two YCombinator-backed companies; one of which he founded and successfully raised seed funding for. Skills include UI/UX Design, Product Management, Product Design, Branding, HTML/CSS, Javascript, Growth Strategy, React.js, Photography, and Modular Design Systems.
Ben
PRODUCT DESIGNER & MANAGER
8+ years Product Design and Management experience creating modern digital products for the web, Android, and iOS. Worked with many startups as well as Fortune 500 companies.

Built several apps which grew to millions of users. Passionate about creating beautiful and intuitive digital experiences that utilize modern design and cutting-edge development technologies. Always searching for and taking inspiration from the best talent in UX/UI, illustration, animation, and multimedia art. Likewise, continually researching new and interesting development technologies. Personally fascinated with AR and VR, game design/development, and all types of awe-inspiring digital experiences.
Tatiana
DATA SCIENTIST
4+ years experience in computer vision, both in classic and deep learning algorithms for object detection (general and task-specific classes like vehicles, pedestrians), gesture reconition, image classification. Expert in model pruning and compression techniques for neural networks. Worked with various deep learning frameworks including TensorFlow, Caffe, Pytorch, Keras.

Master of Applied Mathematics and Informatics from UNN State University.
Jonatan
DATA SCIENTIST
Computer Vision specialist with high affinity for Deep Learning solutions since they broke out in 2012. Adept in both image-related problems (like object detection, segmentation,...) and 3D-related problems (surface-to-surface registration, single-view 3D reconstruction etc.)

Mastered the field of Computer Graphics to drive deep learning solutions through synthetic image generation. Technical skills include TensorFlow/Keras, OpenCV, Houdini FX and other Machine Learning / Computer Vision / CGI frameworks in both C++ and Python.
Anna
DATA SCIENTIST
Computer Vision expert with 6+ years of experience in projects on digital surveillance, virtual reality, mobile photography, and autonomous driving scenarios. Created Deep Learning solutions for object detection, semantic segmentation, human pose detection and re-identification. Implemented Deep Learning solutions for small edge devices using neural network compression techniques.

Masters in Applied Math and Informatics in field of Computer Vision. Experience with Caffe/TensorFlow/Keras/Pytorch, OpenCV, Python/C++.
Kurt
DATA SCIENTIST
Machine Learning Expert with special interest in Deep Learning. Five years of experience as software developer with a mathematical touch. Proficiency with TensorFlow/Keras, Python, C++, Matlab and R.

Master of Mathematical Engineering from KU Leuven University. Affinity for High Performance Computing.
Lien
DATA SCIENTIST
NLP Expert with many years of experience in natural language processing, both classical computational linguistics and state-of-the-art techniques. Built models for question-answering, topic detection/classification, sentiment analysis, semantic search, and both content-based and collaborative recommender systems.

Worked with various programming languages and machine learning frameworks including Python, C++, gensim, SpaCy, Spark NLP, and many more. Masters degree in Mathematical Engineering from KU Leuven.
Vanessa
FULLSTACK ENGINEER
Full-stack developer for 6+ years. Experienced with modern technologies such as React, Node, MongoDB, CSS3 and HTML5, plus PHP, C#, SQL, and more.

Passionate about clean code, strong communication, and products delivered harmoniously in line with client expectations.
William
FULLSTACK ENGINEER
Full-stack developer for 10+ years using REST, SOLID, TDD methodologies, and OOP and FP paradigms. Worked with various technologies such as NodeJS, .NET, React/Redux, Postgres, MySQL, SQL Server, Oracle, Amazon Web Services, Docker, and Kubernetes.

Evangelist of the DevOps and Agile cultures of effectiveness, narrowing focus, automation, and most importantly stop starting and start finishing. 4+ years as team lead. Certified life coach and DiSC behavioral analyst.
Isaac
PRODUCT DESIGNER
Multidisciplinary designer and entrepreneur with 7+ years of experience spanning architectural design, industrial design, and product design. Worked with founders and product teams at early stage and larger profitable companies ranging from real estate-tech, fashion-tech to health & fitness and cryptocurrency asset management/finance.

Designed solutions for Arktura, Gensler, SBE, Outlier Ventures, Open Listings, Dapper Network, Alphapoint, Evolve Health, Olumia Life, HybridBlock, Interchange, Visage, Super Architects, and more.
Guilherme
FULLSTACK ENGINEER
Experienced CTO with 10+ years of experience in several areas including e-commerce, databases, operations and native app development. Expert in Javascript and its ecosystem (Node, Express, Angular, React/Redux, GraphQL, Ionic, React Native, and more) and experienced in Rails, Python, Django, Swift, Objective-C, Java, Redux, Postgres, MySQL, MongoDB, and more.

Also a child prodigy, started college at age 15, graduated with a computer science degree, and wows us with his unassuming brilliance on a daily basis.
Glauber
FULLSTACK ENGINEER
Full-stack developer with 9+ years experience. Digital electronics hobbyist. Javascript and Python expert with deep experience in Node, Docker, Django, React, Ionic, Vue.js, MySQL, PostgreSQL, PostGIS, MongoDB, CSS3, HTML5, Arduino, and TDD, BDD, and E2E tests.

Creator of many fun projects, including a web crawler that captures web radios around the world.
Mari
FULLSTACK ENGINEER
Full-stack developer with 9+ years of professional experience in different technologies such as, but not restricted to, Java, C#, Angular, and widely-used databases like PostgreSQL.

Passionate about code quality, UX, and solving problems using technology. Loves working with agile methods and being part of multidisciplinary teams. Always willing to learn new things and open to new challenges.
Fabio
FULLSTACK ENGINEER
Full-stack developer with 9+ years of experience building awesome products with modern technologies such as Ruby on Rails, NodeJS, MongoDB, Redis, Postgres, MySQL, React/Redux, AngularJS, Ionic, React Native, CSS3, HTML5, Docker, and more.

Passionate about clean architecture, Test-Driven Development (TDD), Lean methodologies, and entrepreneurship.
Rafael
FULLSTACK ENGINEER
Masters degree in computer science with around 15 years of experience in software development. More than 10 years of startup experience and team management. More than five years in customer relationship and product management. Experienced in managing teams and products B2B and B2C that directly impacted more than 150,000 people monthly.

Experienced with Ruby, Java, Javascript, Python, AngularJS, AWS, GCP, Docker, and Kubernetes, among others.
Adam
FULLSTACK ENGINEER AND DATA SCIENTIST
Full-stack developer with 6+ years of experience with working with a variety of technologies including: Javascript, Golang, React, Redux, Vue, MongoDB, Postgres, Elasticsearch, Solidity, Node.js, Leaflet.js, Meteor.js, Typescript, Python, R, VBA, and geospatial analysis. Experienced as a founder (including in crypto), CTO, and data scientist.

MBA Harvard Business School. Trained as an electrical engineer. Passionate about the future of blockchain.